Can you believe Mother's Day is in less than 2 weeks?
It is such a special day to celebrate all the amazing mothers in our lives.  I am here to help guide you and have curated some of my favorite gifts that are going to make any Mom feel pampered and loved. I hope you enjoy, happy shopping! XO Jamie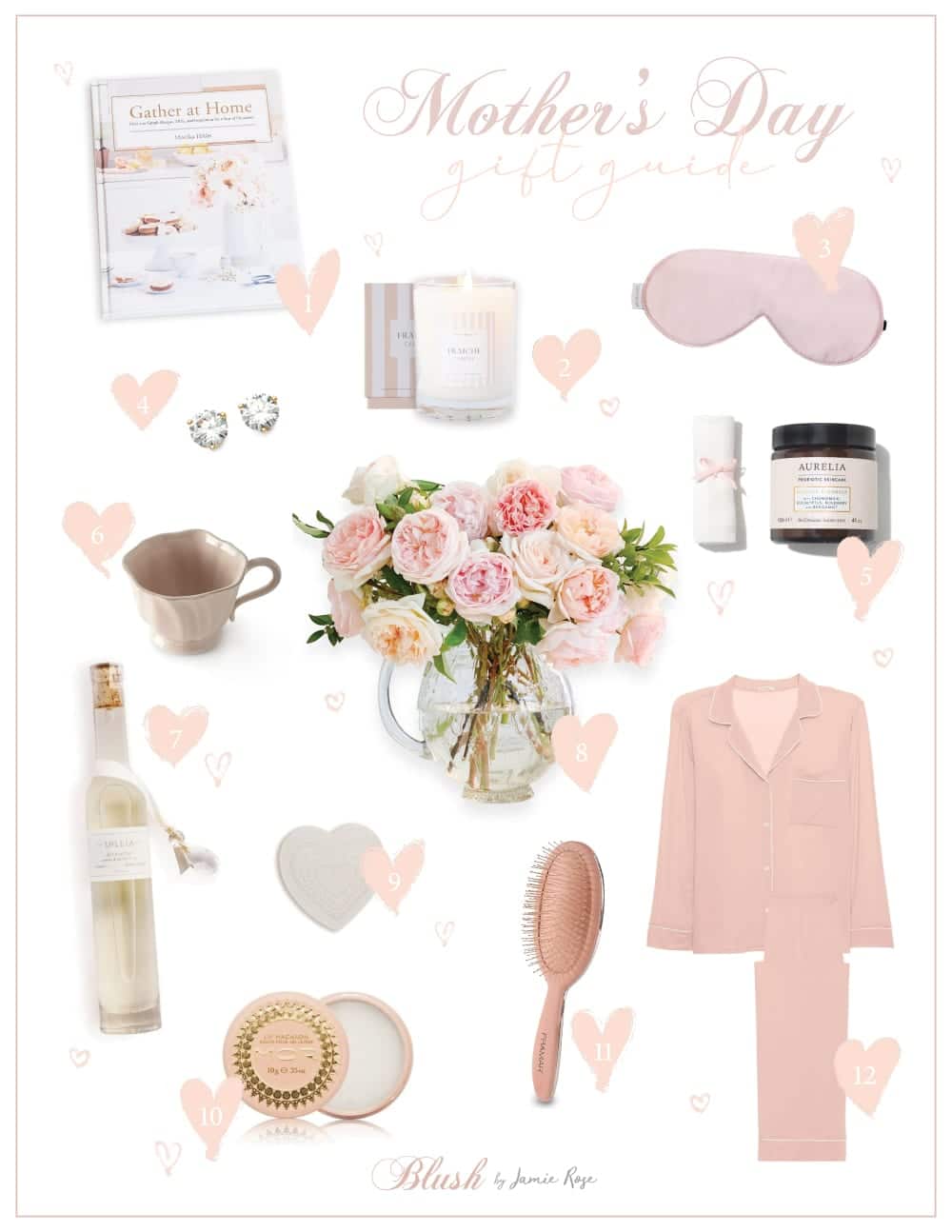 What a perfect gift for any female in your life! The new Monika Hibbs Gather at Home Book is a beautiful collection of recipes, DIY's, and Inspiration for year-round occasions! It would look beautiful placed on a coffee table or in the kitchen, this is one every mother should own!
I just adore Jillian Harris and Tori Wezzer! I was so delighted when they launched their "Fraiche Living Collection" with the Cross Design earlier this year.  One of the items in this gorgeous collection was the Fraiche Candle which is one of the yummiest candles you will own.  I have gone through a handful of them and always keep a back-up in my candle closet.  A beautiful citrus herbal blend which makes the perfect kitchen scent!
Sometimes us mommies just need a little extra shut-eye and this luxurious Eye Mask from Elizabeth W will absolutely make your sleeping experience more enjoyable.  The silk mask and lining are so soft giving you the ultimate nights sleep.
Every lady needs the perfect pair of diamond studs for her wardrobe.  This is a great and affordable option from Nordstrom!
Bring the spa experience straight to Mom this Mother's Day with the Aurelia Miracle Cleanser!  This beautiful creamy cleanser lifts impurities and make-up leaving skin bright, clean and glowing.  The blend of Chamomile, Eucalyptus, Rosemary, and Bergamot is heavenly!!!
What a lovely gift Mom can use every morning as she sips her coffee or tea.  Love the feminine and pink details of this Juliska Madeline Mug!
One of my favorite gifts to give! The best bubble bath you will try and the glass bottle with crystal makes a beautiful accessory next to your tub.  You can't go wrong with anything Lollia, especially the Breathe Bubble Bath!
THIS is probably my favorite item on the list, and is definitely on my wishlist for Mother's Day… A big, beautiful bouquet of the most intoxicating roses from Grace Rose Farm! You can choose which option fits your budget and they will send it directly to Mom's door! How amazing it that? Trust me, these are the most beautiful roses you will ever see and smell!
A Blush favorite! So pretty and delicate… From one of our lovely brands Lothantique, this gorgeous heart shaped soap from France is enriched with shea butter, tripled milled for long use, and has the romantic scent of white musk.  I use this every night when I take a bubble bath and it leaves your skin so soft!
Treat Mom to this ultra-moisturizing and delicious lip macaron from MOR!  Love the Blush color and its feels amazing on the lips.  Perfect purse size gift she will use everyday!
This Pink detangling brush is from Amazon and is one of my must-have items! It's so pretty and most importantly works great.  Mom will love having this basic in her beauty routine, and did we mention its only 9.99?!
Who doesn't want a little luxury in their life?… These essential Eberjey jammies will be that! So incredibly soft made from fabulous material that will hold up for years.  I can't wait till the end of the day and I get to slip mine on.  I LOVE this color and don't always see it in stock. This will be the gift that will be used all the time, year-round.

Let's Glow Hello Lovelies! Who's ready for a post-quarantine glow? I am going to be sharing some of my favorite skin-care items I have been using lately and my daily essentials!1. Double Cleanse: One of the best tips I give my clients is to double cleanse your skin at...
It's always important for me to have inspiration and beauty nearby while I am relaxing, nothing like a great cup of tea and one of my favorite home interior books.
Making spaces look and feel beautiful has been a passion of mine for a very long time. Hopefully, you have had the opportunity to see​ the interior of​ my storefront, Blush​ by Jamie Rose.​