Making spaces look and feel beautiful has been a passion of mine for a very long time. Hopefully, you have had the opportunity to see​ the interior of​ my storefront, Blush​ by Jamie Rose.​ If not, here is a wonderful article that was written by a good friend of mine about the work that I did designing the store's interior. The project allowed me to bring my vision to life for a beauty boutique that focused on beauty in every single detail.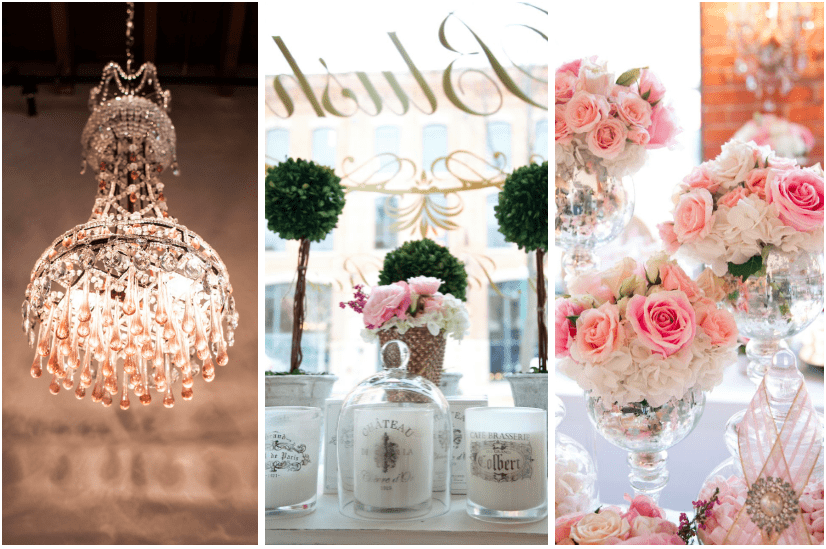 Today, I want to share with you my top 5 picks for making your space cozy, inspirational, and most importantly beautiful! I hope you enjoy what I have to share…
Cozy throws
I love when I get the opportunity at the end of the day to snuggle up on the couch with a cozy throw or blanket. It has to be plushy, soft, and comforting. I love all the different fabric, textures, and materials you can choose from to make it your own. To find your match, I would start by identifying your color palettes for each room and then deciding what throw you want for each space. For example, I have more of a fancy, silk throw I put on my master bed… but in my living room, I have many accessible cozy and easily washable options. So whether it guests, my family, or the pups using them, we all have options and I can throw them in the wash with no fuss. I am loving all things Pom Pom right now and Pottery Barn has these fabulous throws in the prettiest hues. Perfect for movie night!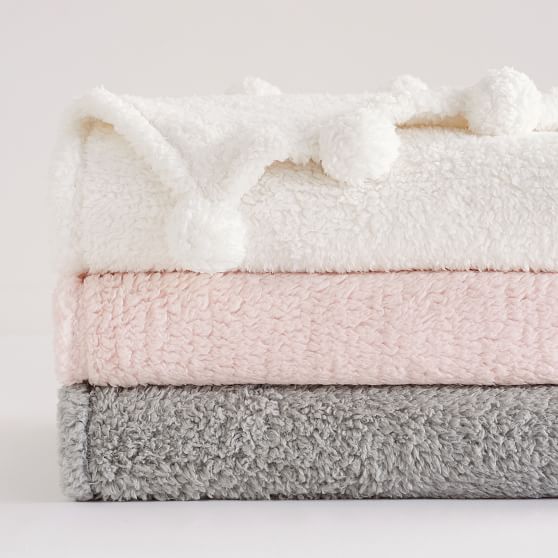 Candles
One of the first things I do when I get home besides getting into comfies and tying my hair up is lighting my favorite candles. Creating that cozy, romantic environment for my space. It relaxes my mood, making my home feel warm and inviting. I also love being able to choose different scents for different seasons. Here are some of my favorites you can't go wrong with year round!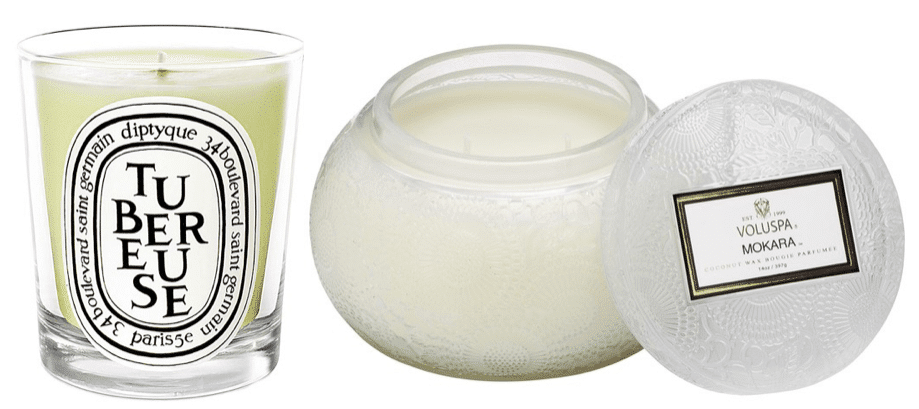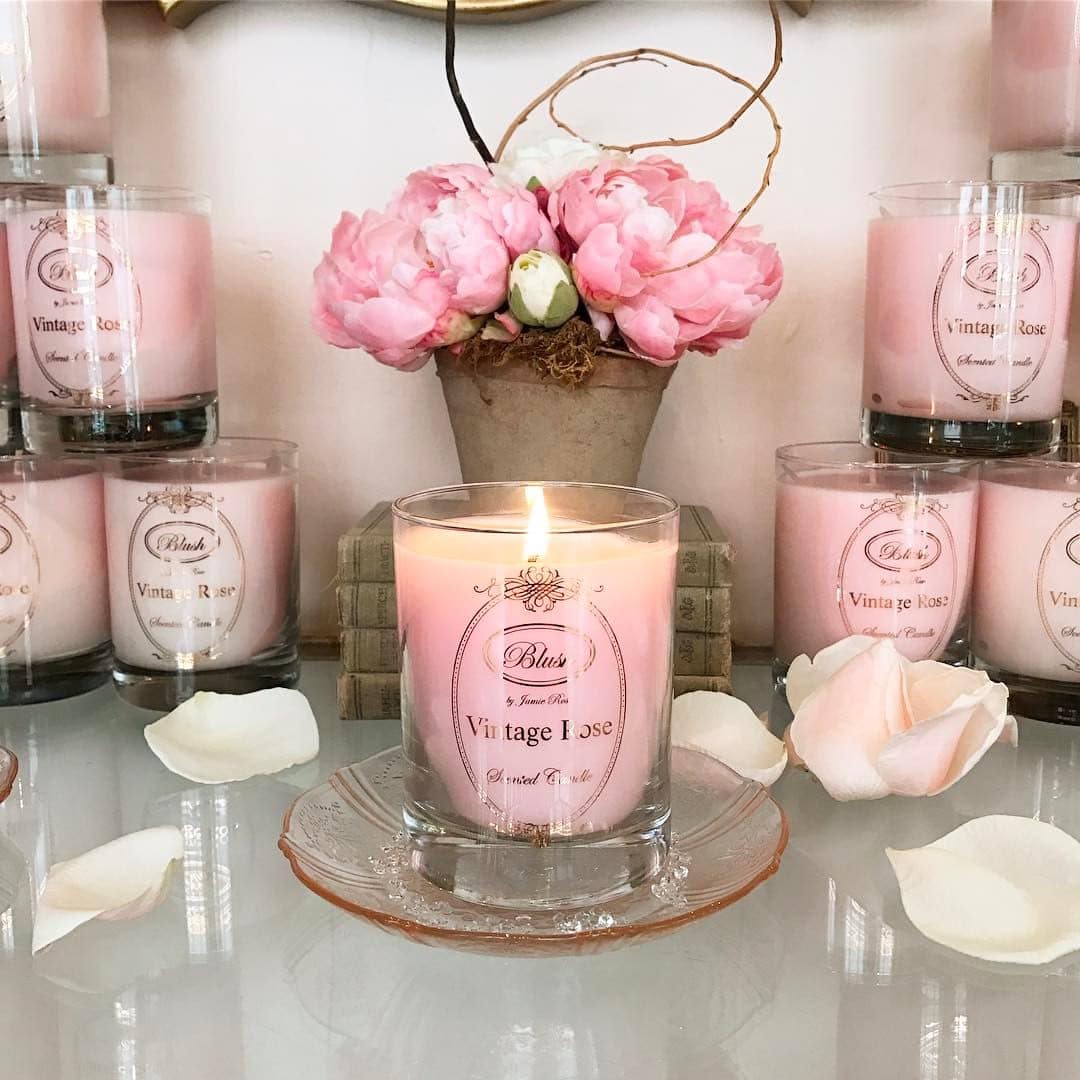 Etheral and Romantic Artwork
Artwork is such a wonderful way to give your home that one-of-kind, special touch. Each painting tells a story and allows people coming into your home to know a little more about you. I recently had the pleasure of having a custom piece of artwork done by Josette Lazaro of Larloves out of New Orleans. I knew when I saw her work that she was the one to help create the masterpiece I was looking for. The inspiration was romance, flowers, and soft pastels… She was amazing to work with and made sure my vision came to life with each step until it was completed. If you are looking for something that will be a conversation piece and brighten your home with whimsical magic, look no further! It was so exciting to recently interview Josette and get to know her and her background. The custom piece she designed for Blush is pictured below!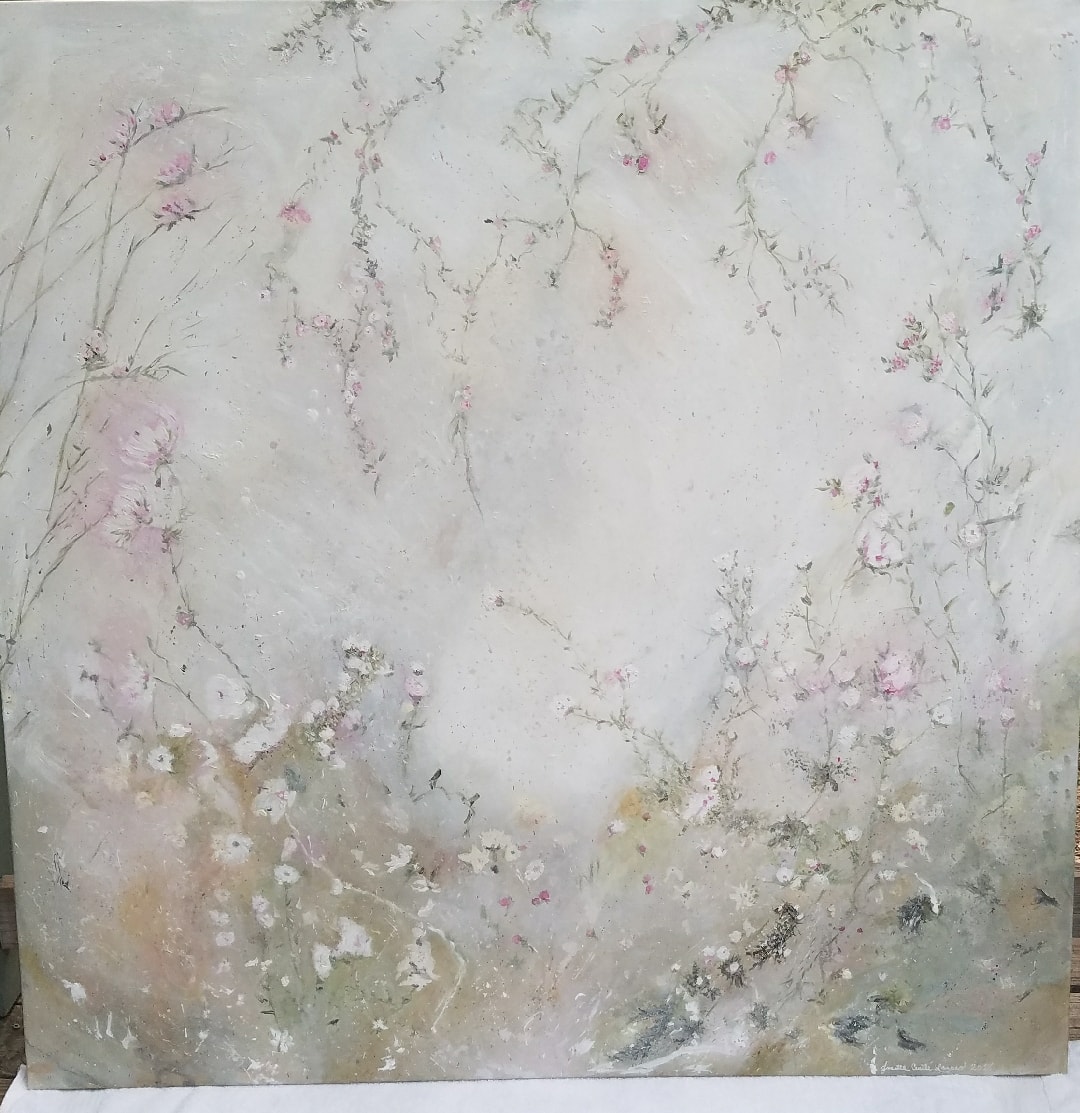 painting by Josette Lazaro
What inspires you? 
A multitude of things inspire me, because I see beauty in all. When it is soft, whimsical, and slightly tattered, it speaks to me.
How long have you been painting and how did you get your start?
In 2011, my youngest daughter, Julia Ashtyn, asked me to do a large scale painting for her. She knew I had some artistic abilities and felt I could create the image she was requesting – up until then my experience with paint on a canvas was very limited. Julia Ashtyn's tutu painting opened the door for what I am doing now. Others have begun asking for commissioned pieces, and that's how it all began. 
What do you do to incorporate beauty into your home? Also, do you have a favorite space in your home and why?
My home of 19 years is open, airy and filled with lots of natural light. I surround myself with fresh flowers, lightly scented candles, art, and photographs of my family and friends. It's a very peaceful and welcoming setting; that's where the real beauty is. My favorite space; I think my husband and children feel the same way, is our dining room. This space holds many incredibly fun and memorable moments. Nothing makes me happier than to have a group of loved ones at the dining room table and for them to linger under the three crystal chandeliers eating, sipping wine, and laughing. A beautifully set table and the gathering of people is a lost art form and one I am instilling in my three children.
Where can clients find your artwork and contact you for custom work?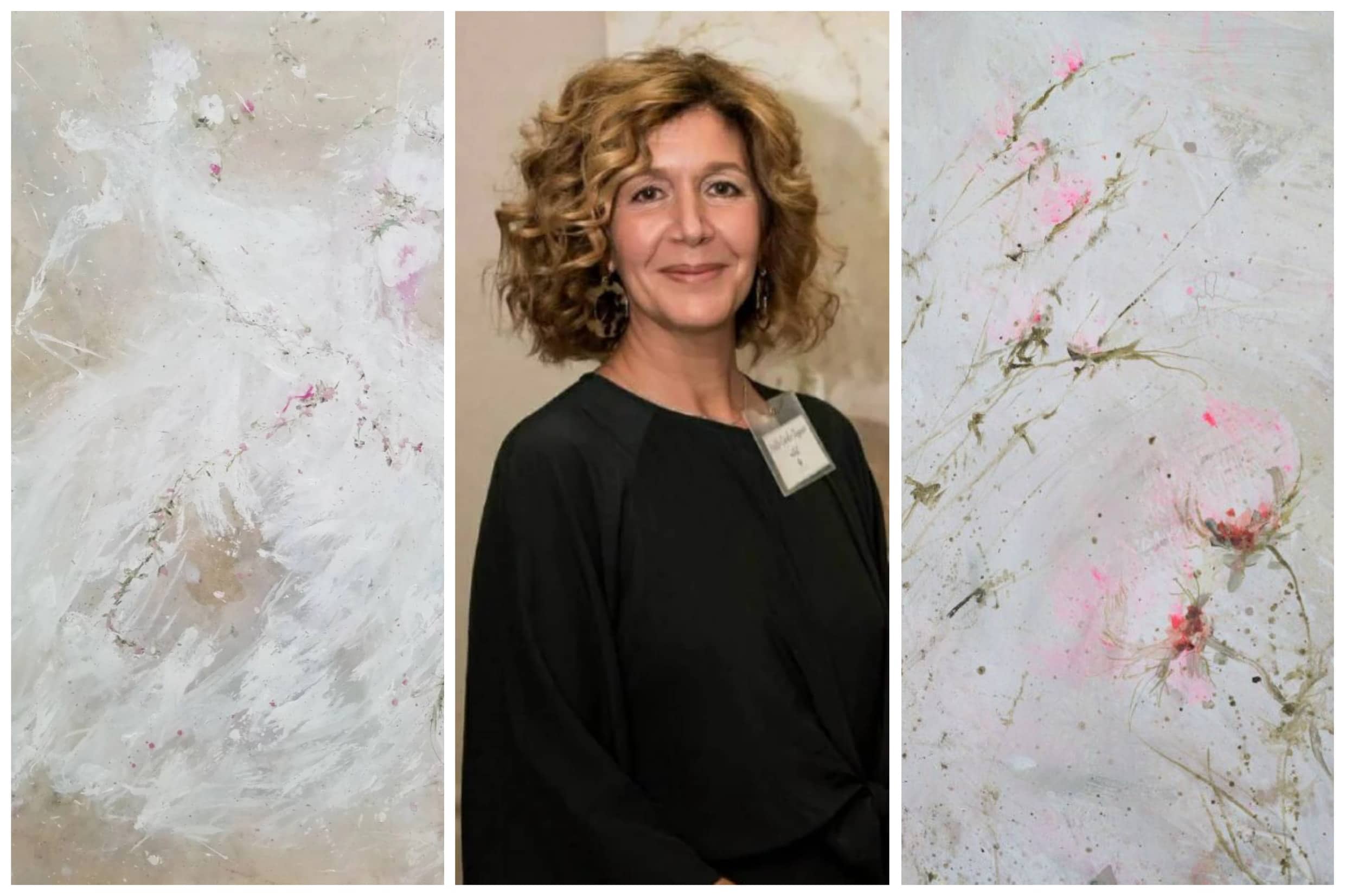 Must-Have Books for the coffee table
It's always important for me to have inspiration and beauty nearby while I am relaxing, nothing like a great cup of tea and one of my favorite home interior books. It gives me inspiration for what I want to do next and allows me to see other peoples vision and esthetic. I feel like I am treasure hunting right from my couch and exploring all the beauty that we can incorporate into our homes. My two go-to books right now are Rachel Ashwell My Floral Affair and French Country Cottage by Courtney Allison of French Country Cottage. If you don't follow Courtney's blog or social media page already make sure to give it a visit!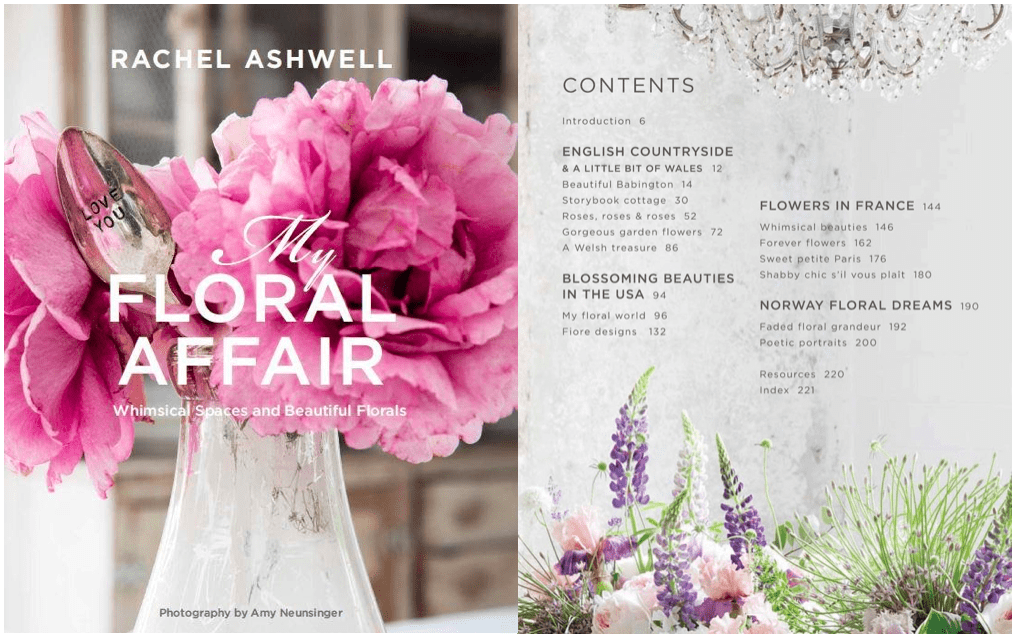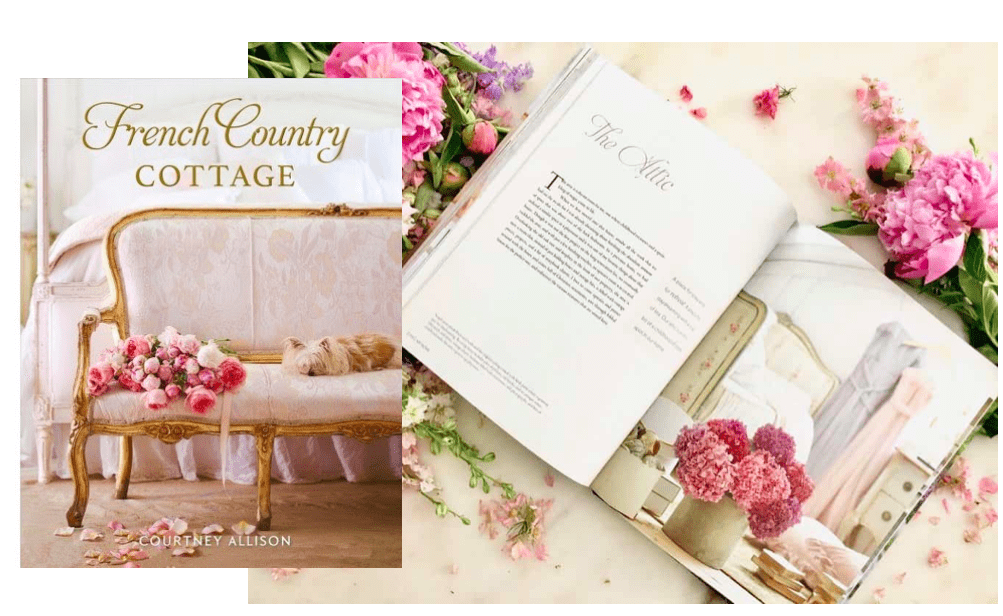 Chandeliers
My absolute favorite way to accessorize a room is with good lighting. A chandelier can give your home that "WOW" factor and reflect elegance in your space. I love finding vintage chandeliers that have character and charm! My motto is the more crystals and swag the better…. It's like finding the perfect frosting for your cake and when the two come together its, MAGIC. I recommend putting a dimmer on your chandelier so you can set the tone for your area whether you are wanting it soft and cozy or bright and vibrant. Lighting styles can range from vintage to glam or modern and they become a beautiful part of showcasing your personal style. I would start with your scavenger hunt by browsing at your local antique stores, Etsy, and Estate sales. You would be surprised at what treasures you can find and for a great price too! I love the chandeliers Rachel Ashwell carries as well. She has some amazing pieces that can make a major statement in your home and will be timeless.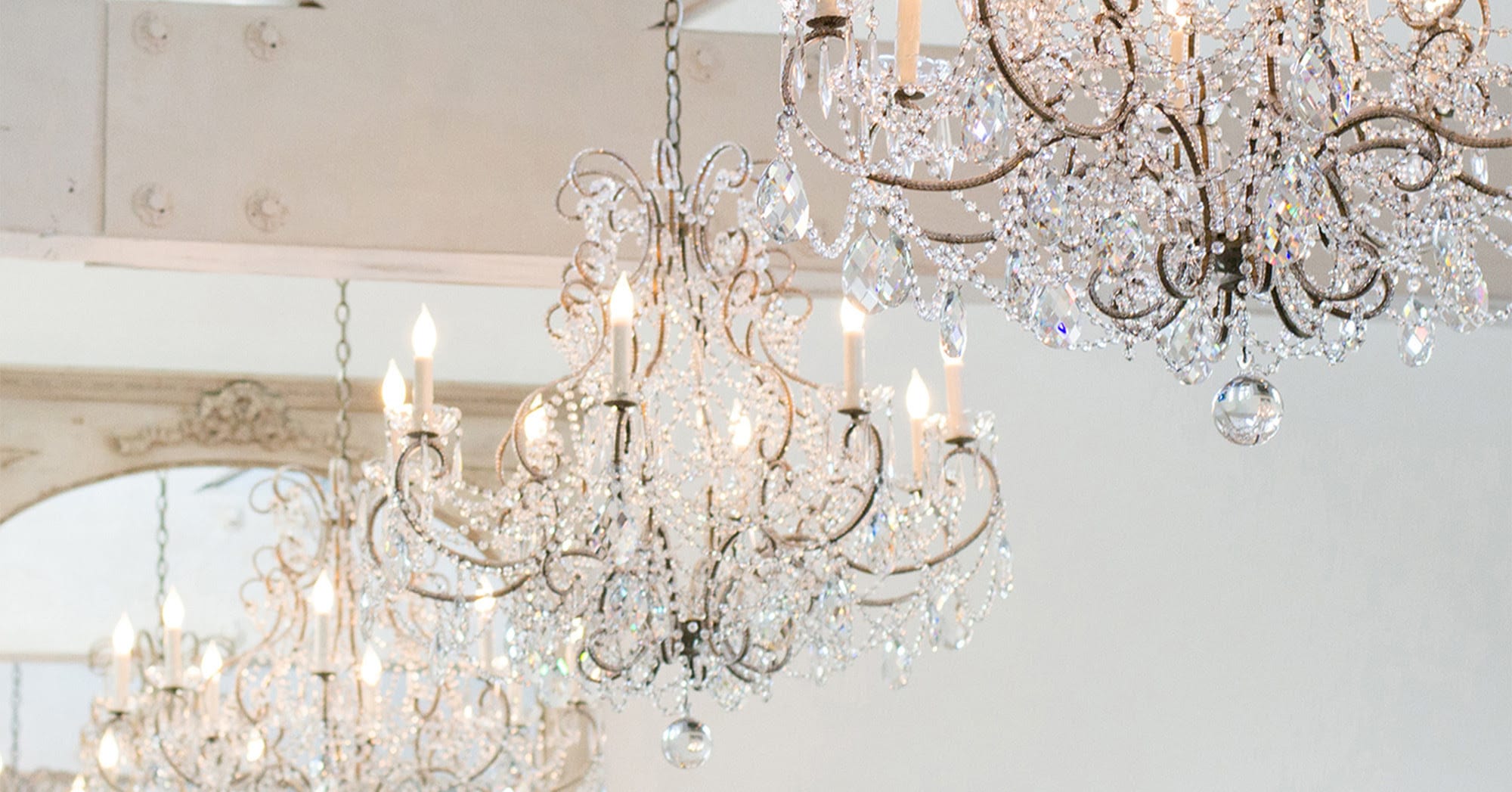 photo via rachel ashwell of shabbychic.com
Thank you for reading, lovely… I hope you feel inspired to create more beauty in your home!