Happy December, Lovelies! Your Blush Dolls have been busy getting all your favorite holiday goodies ready. Check out our 2017 Holiday Gift Guide to see what's on our wish list this year…XO!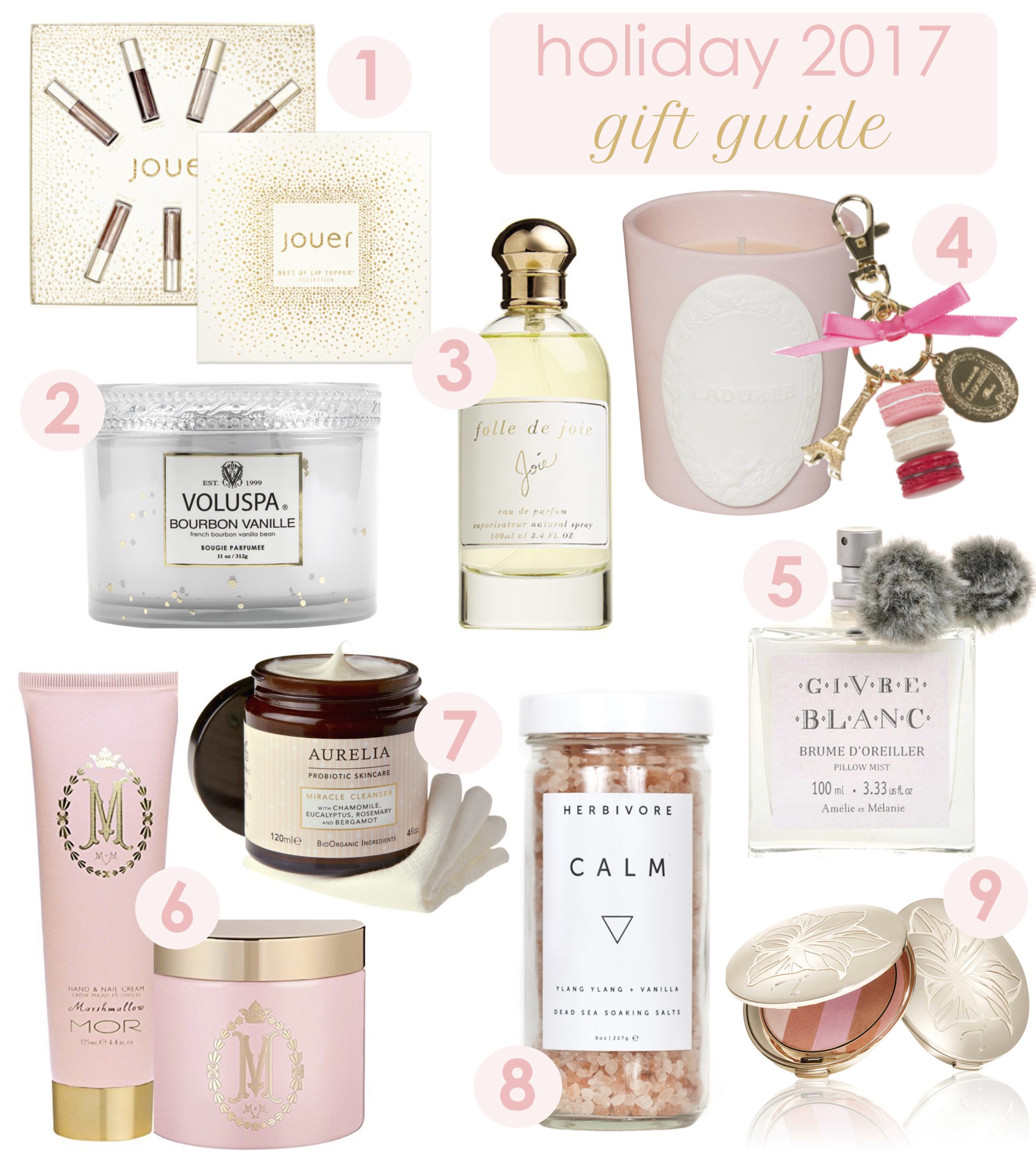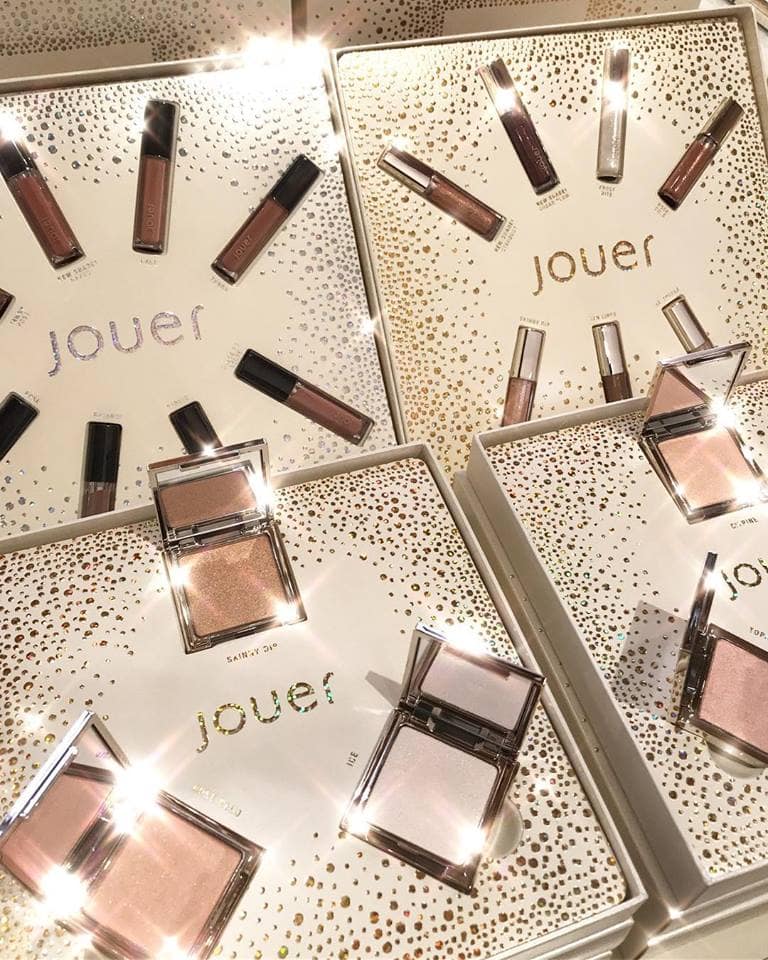 1. Jouer Best of Lip Topper Limited Edition Mini Gift Set, $34 – Grab this one before it's gone!! Jouer's signature lip toppers are incredible – they can be worn alone for a sheer wash of shimmering color or applied over your favorite liquid lipstick to add hydration and a touch of shine. Jouer's lip toppers are formulated with jojoba and coconut oil and unlike traditional lip glosses, the lip toppers are designed to be long wearing and will not break down your liquid lipstick. The Best of Lip Topper Gift Set includes all of Jouer's most popular lip toppers including two new limited edition colors. This gift is sure to please any beauty buff on your list! PS – We also have the Limited Edition Holiday Travel Sized Powder Highlighters! (pictured left).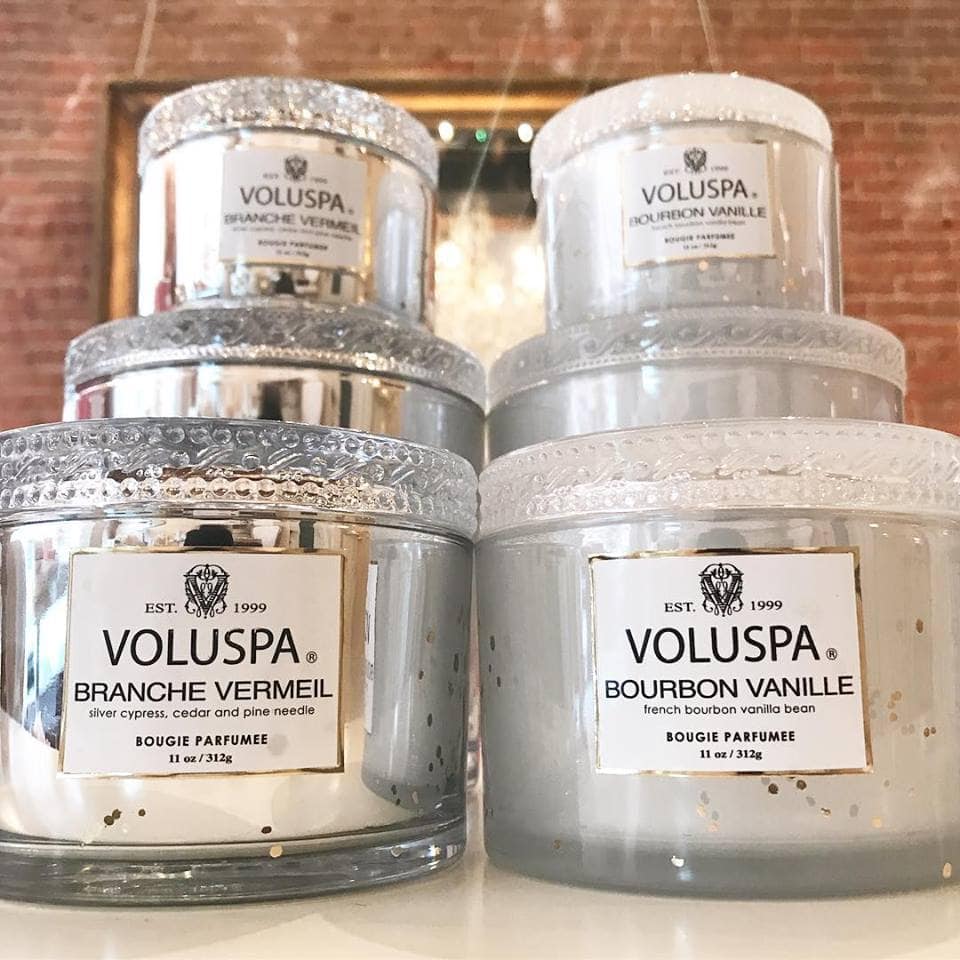 2. Voluspa Bourbon Vanille Corta Maison Candle, $30 – It's not the holidays without our favorite seasonal classic scents from Voluspa! Bourbon Vanille is a blend of french bourbon vanilla beans and distilled extract for a truly wonderful full vanilla fragrance. From the finely fragrant coconut wax blend and gold plating to the reflective metallic container, this candle exudes class from the inside out. For more fragrance options, check out all of our Voluspa candles here!
3. Folle de Joie Eau de Parfum, $98 – Folle de Joie, one of our top-selling fragrances, captures the carefree yet sophisticated Joie lifestyle, with inspiration taken from California's sea-scented beaches and romanticized with a bit of Parisian charm. The fragrance profile is unparalleled, as it combines sweet citrus, woodsy florals, cognac, jasmine, rose, spicy wood and leather.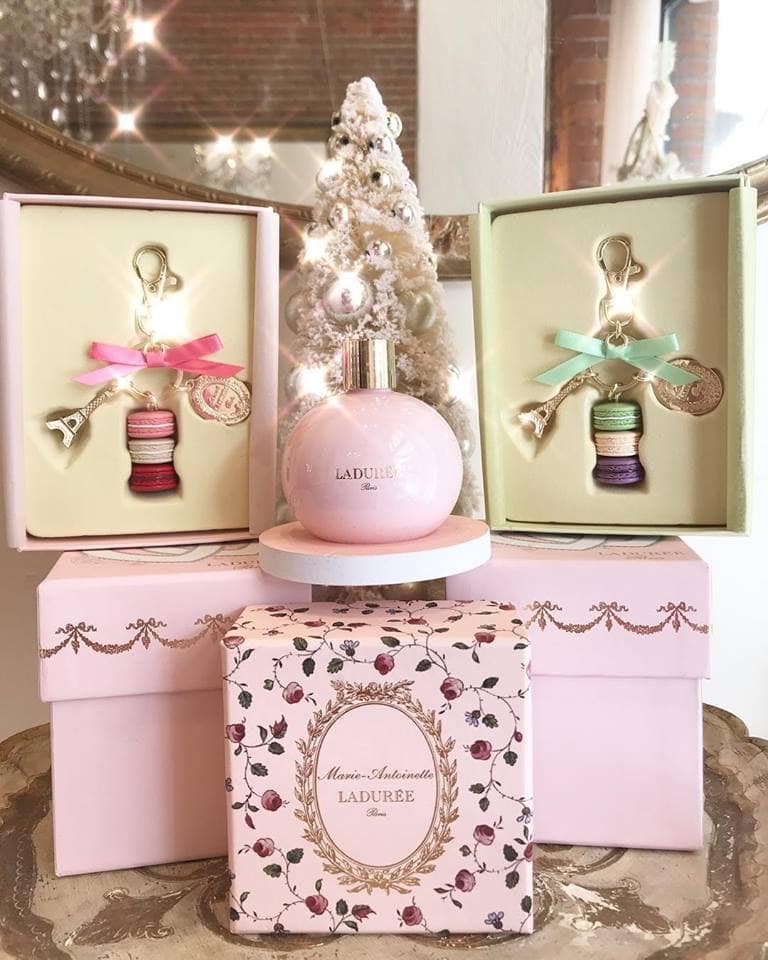 4. Laduree Marie Antoinette Limited Edition Candle, $70 & Rose Key Chain, $58 -Enjoy a care-free ambience in your home with this Marie Antoinette scented candle from Ladurée. A wonderfully uplifting fragrance, it blends rosebuds, honey and citrus fruits and revitalises any interior space. Presented in pretty pink vessel with white Ladurée cameo, it makes a wonderful luxury gift idea for any home fragrance enthusiast. This limited edition fragrance is also available in a home fragrance spray (pictured left).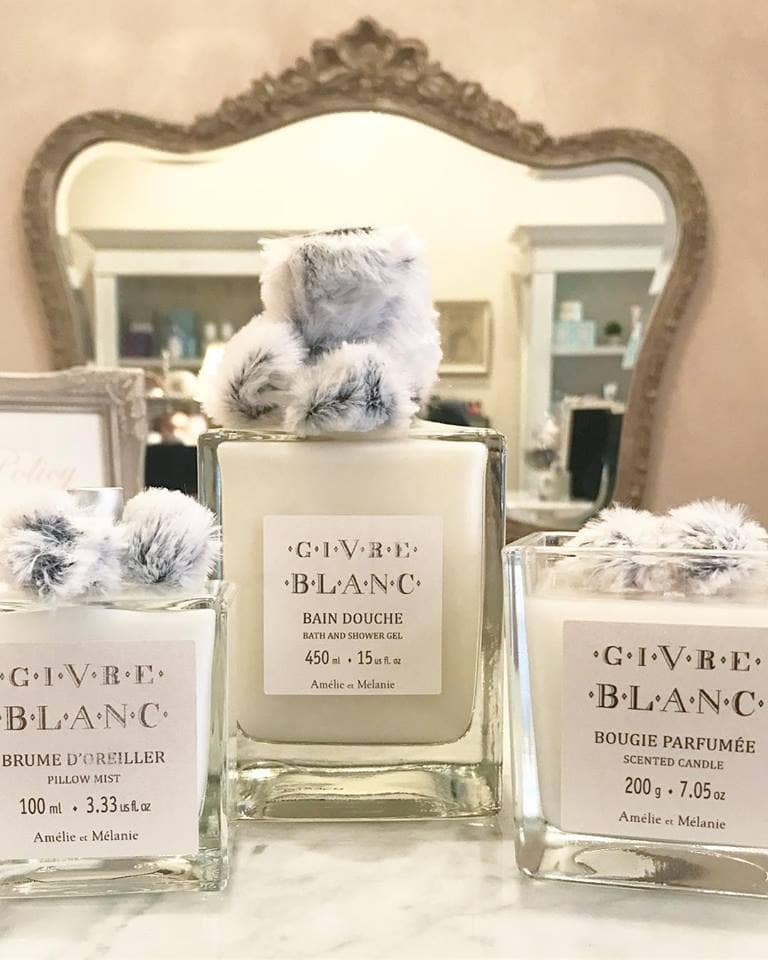 5. Givre Blanc Pillow Mist, $28 – Who wouldn't love a pillow mist? We adore the entire Givre Blanc Collection for it's heavenly scent and beautiful packaging. Pair the Givre Blanc Pillow Mist with the Givre Blanc Scented Candle, Bath & Shower Gel or French-Milled Scented Soap for the perfect wintery gift!
6. Mor Cosmetics Marshmallow Sugar Body Scrub, $38 and Marshmallow Hand & Nail Cream, $28 – The Marshmallow collection by Mor Cosmetics is a Blush favorite for its luscious body care products and soft, feminine and deliciously sweet soft fragrance! The Sugar Scrub is formulated with avocado oil & chamomile extract to soften and sooth the skin. The Hand & Nail cream is equally as wonderful and paraben free!
7. Aurelia Miracle Cleanser, $62 – Need a gift for the girl who has everything? Look no further! The Miracle Cleanser by Aurelia an intelligent, aromatic, creamy infusion that glides on to the skin and lifts off all impurities and make- up. It fuses probiotic and peptide technologies with BioOrganic plant and flower essences to hydrate and soothe dull and dehydrated skin promoting a luminous, dewy, radiant glow whilst helping to prevent skin aging.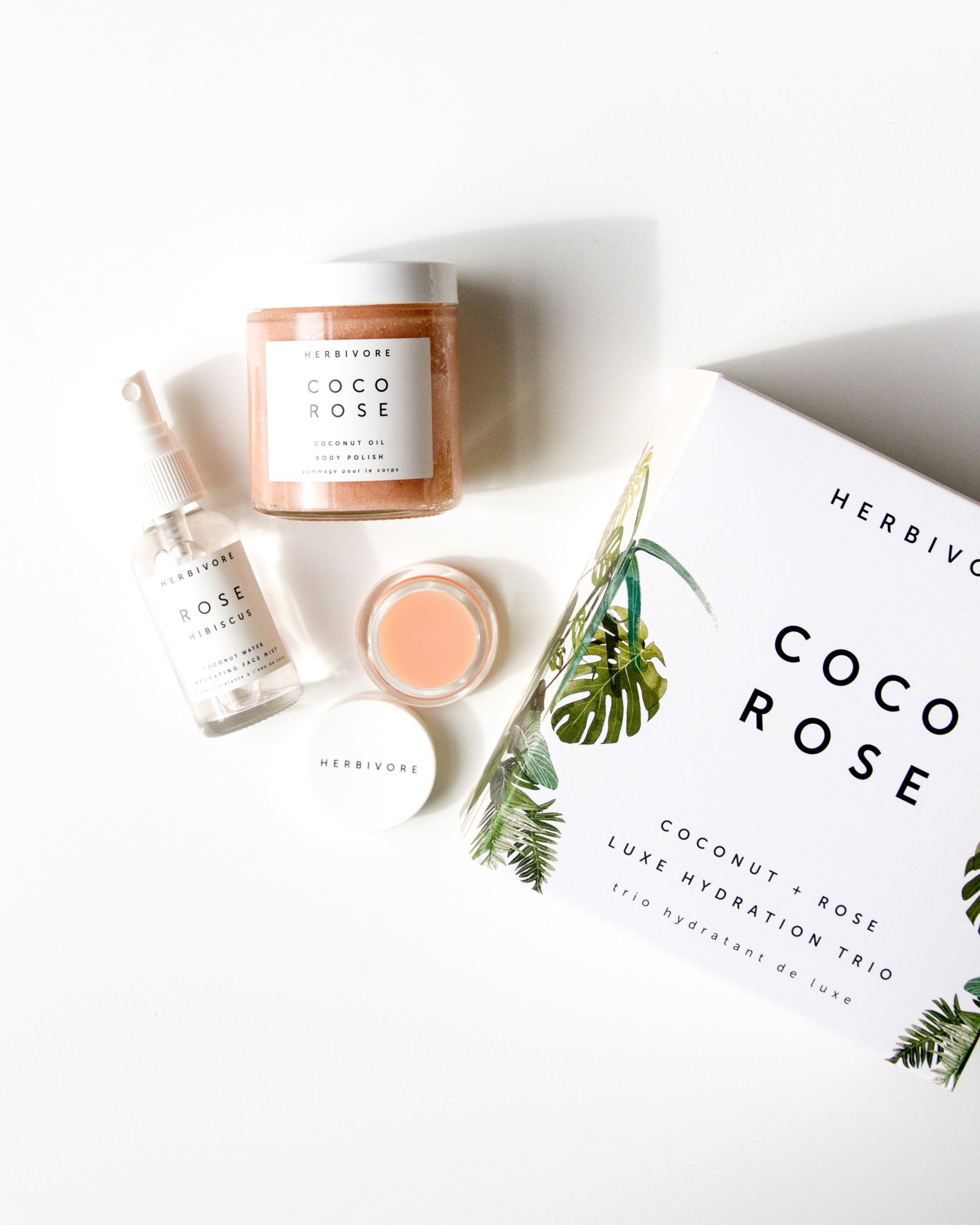 8. Herbivore CALM Bath Salts, $18 – Calm Bath Salts are a truly soothing and calming blend including floral ylang ylang and natural vanilla to relax the mind and body; these salts also include lightly detoxifying and beautiful Himalayan Pink Salt crystals. We suggest pairing the Calm Bath Salts with the Coco Rose Luxe Hydration Trio by Herbivore for a lovely gift!
9. Jane Iredale Limited Edition Fourish Rose Gold Compact, $20 & Rose Dawn Mineral Bronzer, $44 – This chic rose gold tone compact featuring a Japanese maki-e style orchid on the lid is refillable with your favorite PurePressed Base, Bronzer, or PureMatte powders. The Rose Dawn Mineral Bronzer has four complementary shades that can be swept across eyes, cheeks and lips to contour and highlight for a luxurious look that's made in the shade!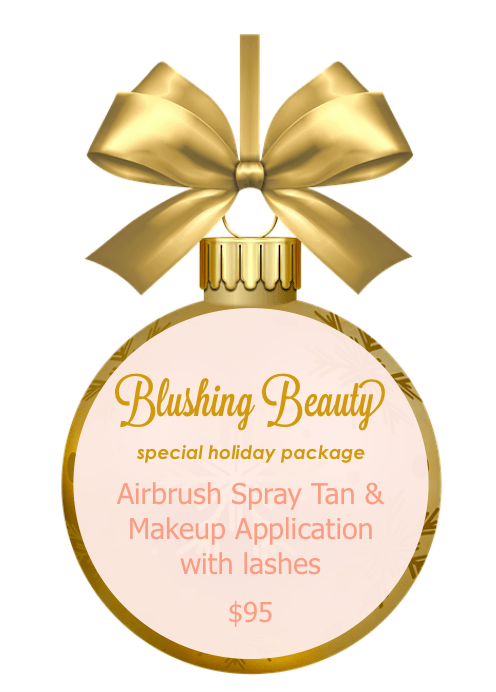 10. Blush Holiday Special Packages! – Did you know we are offering some amazing deals on all of our most popular services at Blush this Holiday Season? Check them out below and click the links for more information! PLUS – Earn $10 in Blush Bucks for every $100 spent on Blush Holiday Packages or Gift Cards!
Winter Glow Airbrush 5 Tan Package
Blushing Beauty Makeup + Tanning Package
Makeup 101 + FREE Glow on the Go Package
Mother & Daughter Makeup Classes Package
Girls Night Out Makeup Application Package
Glow on the Go Express Makeup Package
All items featured on the blog today can be found in our downtown Boise Boutique and Online Shop!