Summer is right around the corner which means wedding and prom season are already in full bloom!  As the temperatures warm up you might notice some changes in your skin.  It is common to experience breakouts when the temperature changes, but there is nothing worse than an unsightly pimple or breakout before a big day!  We've picked four of our favorite products from Ultraluxe Skincare, a results driven line packed with pure botanical ingredients, to help you achieve flawless skin all summer long!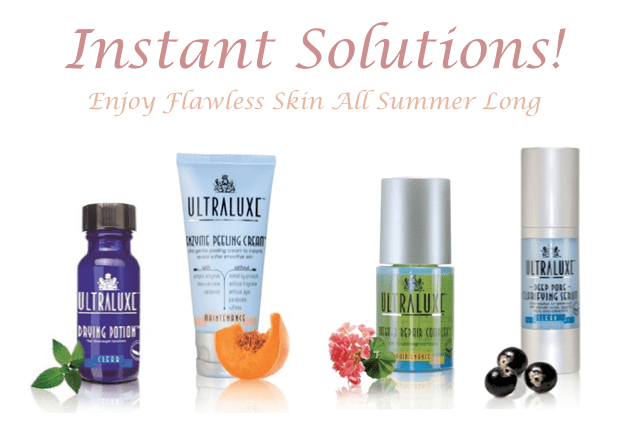 1. Drying Potion – The Overnight Solution
This emergency spot treatment solution has been a Hollywood favorite for years simply because it works. Dead Sea sulfur and pure Lavender and Chamomile help calm breakouts and reduce pimple size and appearance. This is our go-to whenever we see even a hint of a breakout.  The Drying Potion stops breakouts in their tracks before they get worse!
2.Enzyme Peeling Cream – Ultra gentle Peeling Cream
Enzyme Peeling Cream prepares skin for maximum results with serums and moisturizers while eliminating build-up of impurities. Pumpkin Enzymes and Cardamom Extract help to gently remove dead skin and sebum that can clog pores. Reveal fresher, softer skin with this non-abrasive sloughing cream.
3. Omega-3 Repair Complex – Skin Nourishing Complex
This nourishing complex with 100% botanical Omega-3 and 6 fatty acids protects against dehydration by duplicating your skin's natural oil balance. Perfect for maintaining your skin's natural glow from the inside out. We like to think of it as a multivitamin for your skin!  This is a must have for every skincare regimen.
4. Deep Pore Clarifying Serum – Daily Solution for Breakouts
Aids in controlling breakouts while soothing and helping to protect your skin. An exotic antioxidant blend of organic Acai, Copaiba, and Andiroba combined with Salicylic and Lactic Acid. This fast-absorbing, gentle formula reduces oiliness, leaving your skin with a clear and healthy complexion.
Have questions about which products are right for you? We are here for you! Stop into Blush today and we can talk about which products would be best for you. ♥